Exterior
Painting
We STRONGLY suggest that you read our Sections on Interior Painting before you start these lessons on Exterior Painting! The techniques and skills required are applicable to BOTH Interior and Exterior jobs!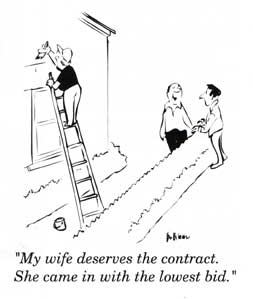 All of our discussions on Exterior Painting will apply to all types of Homes, but for the sake of simplicity, we have chosen to use a standard three bedroom brick ranch as our typical example...
If you are Painting another style Home, simply adjust your methods to account for the differences and you will be able to produce a good Paint job on whatever type of Exterior that you have!
Exterior Painting requires that the Temperature be at least 50 Degrees F (overnite) for at least TWO WEEKS consecutively for the Paint to CURE properly! And moderate Humidity is desirable...
For choosing Exterior Colors, please see our section on Colors and use the Sherwin Williams Color Visualization Tool link that we provide near the bottom of the page...
As in our sections on Interior Painting we STRONGLY suggest that you read and follow these lessons in SEQUENTIAL ORDER by using the Page Links at the bottom of each page... otherwise use the Menus at the top and sides...


When working outside, be sure to "Look Around" for ruts, holes, or other objects that could cause you to stumble and Spill Paint or injure yourself! [read all the tips]
Copyright © 1998-2023 Paintahouse.Com®All Rights Reserved