Craigslist Tutorial

Using Your Web Page To Sell Items On Craigslist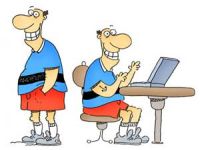 This lesson will assume that you have studied HTML at one or more of our recommended Design Sites ...if you haven't done that yet, go do it and return here and we will show you how to use Your Web Page to Sell Items On Craigslist
Craigslist allows users to use HTML (Hypertext Markup Language) in their ads (unlike many other classified web sites that do not)... HTML is the simple markup language that you must know and use to construct a web page... so this is a BIG Advantage to you as a seller... because readers of your ad on Craigslist can be directed (by you placing a HTML Link into the ad) to Your Web Page... rather than having them contact you via the funky Email System that Craigslist provides, or by contacting you from your Phone No that you placed into the ad (not always a good idea unless you want to wait by the Phone all the time)... so instead if you build your web page (following the guidelines below), readers will find out where and when to contact you when they get to your web page, and they will also be given a Contact Email Form there, to contact you if they have further questions (after browsing your web page) ...
In addition and perhaps More Importantly (especially if you are a continual Craigslist Seller and have OTHER Items available), the readers will be shown other things that you have for sale at Your Web Page and perhaps purchase something else besides what they originally were interested in! The important thing to understand here is that you WANT the readers to go from Craigslist to Your Web Page...
NOTE: Backing up a bit... Don't forget, that when you post an Ad at Craigslist, you actually can also place your map location directly into your Ad using CL map input features.. but as stated above, if you do that, you should also incude in your Ad, what time and what days you are available to be reached at that map location... but... it really deveats the purpose to also place your phone number into the Ad (or on your web page for that matter too) unless you want to receive a ton of calls... Leave your phone contact to a business card and give it out when appropriate...
IMPORTANT UPDATE: As of 11/6/13 Craigslist has DISABLED
active linking
in it's for sale ads... so now all you can do is type-in your web page address into your ad and then the users must copy it to their browser's address bar, to allow them to go to your web page!!! ... WE'RE SORRY THEY DID THAT!
So for example let's say you were trying to sell a Chair, then in your Craigslist ad you would describe the Chair a bit, and then place the info perhaps like this:
I Have A Nice Chair For Sale $50
[always put a price]
Here is a Nice Chair... $50 [always have a picture
ads without pics do not sell]
Please See This Map And Contact Page For Details: www.your_webpage_name.com
[add map & time to come, if you like
using CL map input features]
IMPORTANT: Make sure you select the tic for "No Replys To This Email" so that users will not be able to email you and will instead use your webpage link to contact you!

You should use the Craigslist Help Section to learn how to post an ad...
Here is an EXAMPLE of one of our CL Ads: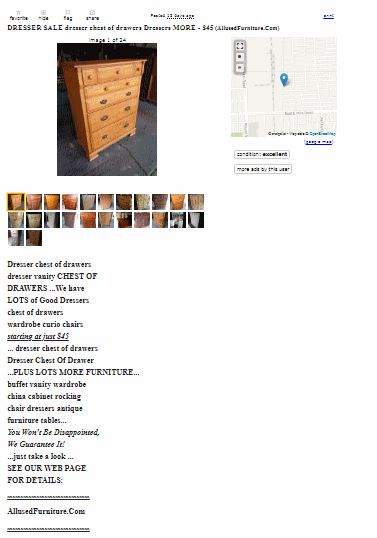 AS WE SAID CL allows HTML Code in it's Ads... here are the HTML Tags that it allows: Click Here ... so for example, in our Example Ad above, we used the <b>bold text here</b> tags to BOLD certain text... and we use the <h2> tag and the <u> tag and the <i> tag to further enhanse our ad...
Now Let's Discuss How To Build YOUR WEB PAGE For Your CL Ads
After you Study and Learn HTML, read our HTML Tutorial 1 to learn more about how to build a web page...
Here's our EXAMPLE PAGE which goes to Our Old Furniture House Ad Page which we are going to use as a Guide for building Your Web Page and which has the INFORMATION that we are going to suggest that you use as a Guideline in this tutorial: www.Oldfurniturehouse.Com
If you look over that page, you'll notice THREE distinct bits of information, these are the Minimum Bits Of Info that you MUST provide for the Readers, if you want to add extra Info, feel Free to do so but don't CLUTTER up your page... readers are always in a bit of a hurry for REAL Pertinent Info!:
A Map to your location and the best days, and time of the day that you want readers to come

... or your Hours of Opperation

A List Of All The Items For Sale that you currently have... or your Services Etc.

A Contact Page so that readers can contact you further if desired

(after they are exposed to your web page, and have seen All that you have to offer)...
Now lets go over each of these in detail...
1. The Map and Time To Come Info: The time to come is at your descretion depending on your Particular Content on your web page... The Map can be gotten from a Google Map Search (of your address) and then Captured and Sized (by using a Screen Capture Tool) and placed into the web page source code as an HTML Image... You can download a Nice Screen Cap Tool (and learn how to use it) from our Design Links Page ... alternately if you have an account with Google, you can use the information on This Page to set up a Map on your web page...
2. The List of your other Items For Sale can be just a simple HTML list or Links to various pages... IMPORTANT: But you should create a separate web page for each Item and Link to it in your List! (as we have in our Example Page List) Or if you have other Services or Ideas to offer, place them here...
3. The HTML Contact Form on your Contact Page is constructed by using HTML Form Codes and a Formmail Script... Read our Forms Info Here
The Form Mail Script that we use for almost all of our "Contact Pages", is from Source Forge and is a Free Downloadable Script, which comes with a README File, that will clearly explain how to use it...
By Viewing The HTML Source Code for Our Example Page (Right click on open space, then choose View Source)... you can see how we constructed the page
WATCH OUR:

View Source Media Tutorial Movie
Finally, as a responsible Craigslist Seller... you MUST REMOVE any data when Items are Sold... this means being a WEBMASTER...of your page(s)!!!
If you want to allow readers to Make A Deposit (Or Purchase An Item Outright) from your web page (a BIG Advantage For You and For Them)... you need to learn how to build an eCommerce Web Page... Read Our eCommerce Tutorial